Mercedes-Benz Markham wins the Star Dealer Award for the 7th consecutive year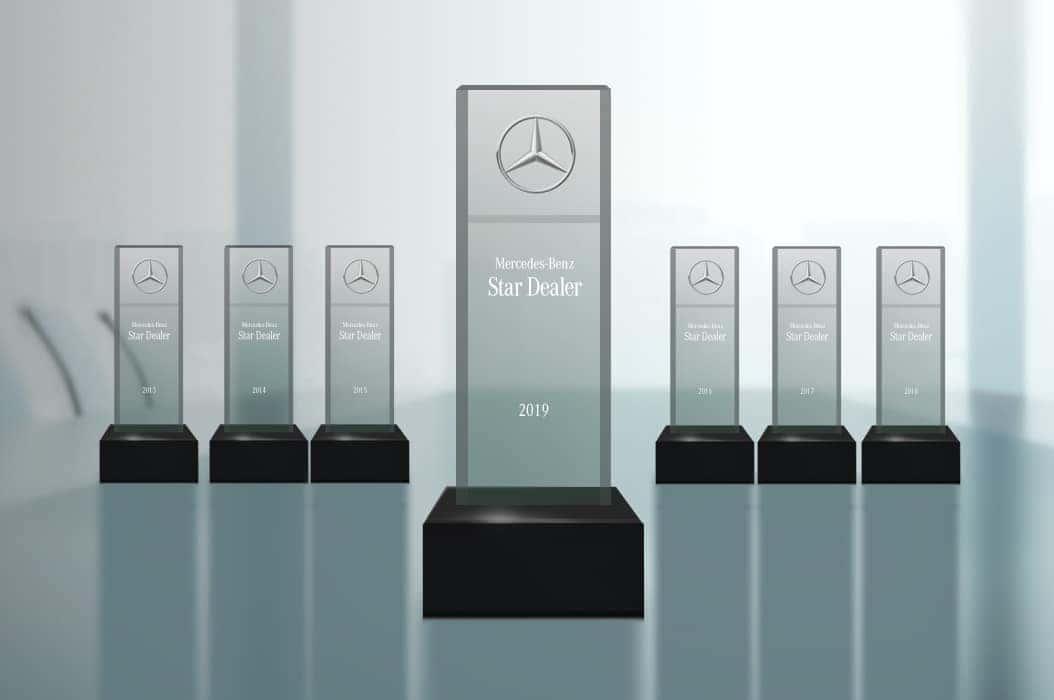 Mercedes-Benz Canada is pleased to announce its 2019 Star Dealers: the top 11 dealerships among the company's national network of 59 retail locations. In order to qualify, these dealerships must have demonstrated outstanding performance in new and pre-owned sales, service and parts, in addition to exceptional customer service satisfaction, over the course of the 2018 calendar year.
Mercedes-Benz Markham wins for the 7th consecutive year (2013, 2014, 2015, 2016, 2017, 2018, 2019)
The Star Dealer designation was first introduced in 1999 as an opportunity for Mercedes-Benz Canada to publicly acknowledge the top-performing dealers who have made vital contributions to the company's success.
The 2019 Star Dealers are as follows (listed from east to west):
| | | |
| --- | --- | --- |
| Dealer Name | Dealership | Location |
| Norman Hébert | Mercedes-Benz de Québec | Québec, Québec |
| Benoît Theetge | Mercedes-Benz St-Nicolas | Lévis, Québec |
| Peter Santos | Mercedes-Benz Peterborough | Peterborough, Ontario |
| Neal Bodack and Giuseppe Zanchin | Mercedes-Benz Durham | Whitby, Ontario |
| Glen Alizadeh | Performance Mercedes-Benz | St. Catharines, Ontario |
| Van Malkhassian | Mercedes-Benz Markham | Markham, Ontario |
| Graham MacNab | Mercedes-Benz Midtown | Toronto, Ontario |
| Sylvester Chuang | Mercedes-Benz Oakville | Oakville, Ontario |
| Jonathan Eltes | Mercedes-Benz Brampton | Brampton, Ontario |
| Rick Sentes | Kelowna Mercedes-Benz | Kelowna, British Columbia |
| Ajay Dilawri | Mercedes-Benz Langley | Langley, British Columbia |
"In 2018, Mercedes-Benz dealers from coast to coast worked incredibly hard to provide exceptional products and services to our customers," said Brian D. Fulton, President & CEO of Mercedes-Benz Canada. "Thanks to their efforts, the company was able to maintain its position as the number one luxury manufacturer in Canada for the fifth consecutive year. Though every dealer contributed to this success, 11 dealerships went above and beyond to earn the Star Dealer designation. I'm so proud to have such outstanding dealers representing our brand here in Canada and would like to congratulate our Star Dealers for their achievements over the past year."
# # #
About Mercedes-Benz Canada
Mercedes-Benz Canada is responsible for the sales, marketing, and service of Mercedes-Benz and Mercedes-AMG passenger vehicles, Mercedes-Benz Vans, and smart. Headquartered in Toronto, Ontario, Mercedes-Benz Canada Inc. employs approximately 1,200 people in 14 locations across Canada. Through a nationwide network of seven Mercedes-Benz own retail operations and 52 authorized dealerships, Mercedes-Benz Canada sold 49,758 vehicles in 2018. This positioned Mercedes-Benz as the top luxury manufacturer in Canada for the fifth consecutive year.
For more information, please contact:
Sinead Brown 416-847-7588 [email protected]
Further information from Mercedes-Benz Canada is available at media.mercedes-benz.ca.