Mercedes-Benz Markham named Star Dealer for third consecutive year.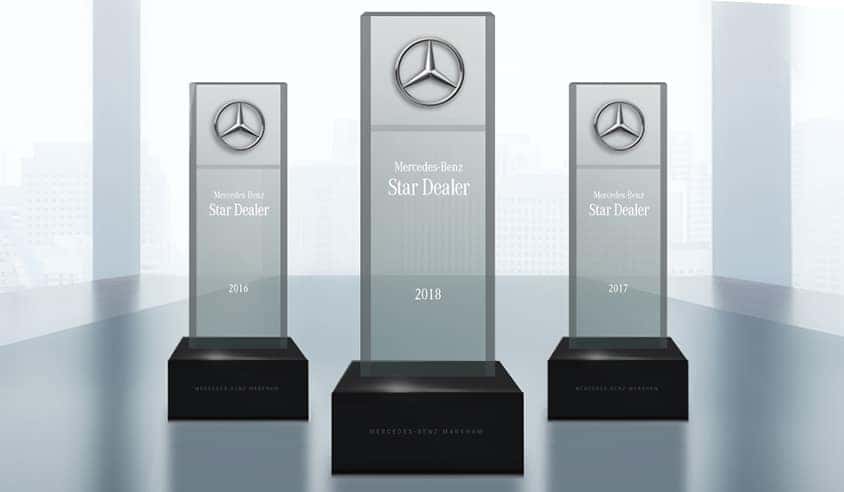 Star Dealer 2016, 2017, 2018. Please view the Mercedes-Benz Canada press release announcing the 2018 Star Dealers below:
---
Mercedes-Benz Canada has named its 2018 Star Dealers: the top 11 dealers from across its national network of 59 retail operations. The designation recognizes authorized Mercedes-Benz dealerships who demonstrated outstanding performance in new and pre-owned sales, service and parts, as well as robust customer service satisfaction, over the course of the 2017 calendar year.
Since it was first introduced in 1999, the highly esteemed Star Dealer designation has served as an opportunity for Mercedes-Benz Canada to publicly thank the dealers who have made such an important contribution to the company's success.
The award-winning General Managers and the Mercedes-Benz Corporate Retail Stores across Canada are as follows:
| | | |
| --- | --- | --- |
| General Manager | Dealership | Location |
| Van Malkhassian | Mercedes-Benz Markham | Markham, Ontario |
| Thomas Hiscox | Mercedes-Benz Thornhill | Thornhill, Ontario |
"In 2017, each dealership across the network contributed to the success that allowed us to remain the number one luxury manufacturer in Canada for the fourth consecutive year," says Brian Fulton, President and CEO of Mercedes-Benz Canada. "In the end, though, exceptional performance set 11 dealerships apart: they rose to the challenge, and raised the bar in the process. I would like to congratulate them for going above and beyond in all aspects of their business."
About Mercedes-Benz Canada
Mercedes-Benz Canada is responsible for the sales, marketing and service of Mercedes-Benz and Mercedes-AMG passenger vehicles, Mercedes-Benz Vans and smart. Headquartered in Toronto, Ontario, Mercedes-Benz Canada Inc. employs approximately 1,700 people in 21 locations across Canada. Through a nationwide network of 11 Mercedes-Benz owned retail operations and 48 authorized dealerships, Mercedes-Benz Canada sold 52,298 vehicles in 2017. This represents the best year ever for the company and has positioned Mercedes-Benz as the top luxury manufacturer in Canada for the fourth consecutive year.
For more information, please contact:
JoAnne Caza                416-847-7550             [email protected]
Sinead Brown               416-847-7588             [email protected]
Further information from Mercedes-Benz Canada is available at www.media.mercedes-benz.ca.